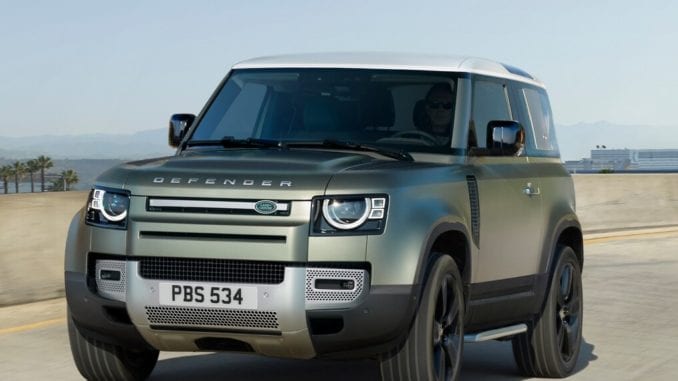 2020 Land Rover Defender – A Closer Look
It's one of the most highly anticipated new vehicles of 2020. So, why is everyone on the internet hating on the 2020 Land Rover Defender? Let's find out.
Introduction to the New Defender
It doesn't get any more rugged than a Land Rover Defender, at least the old Defenders. Since its inception back in 1948 the style of the vehicle hasn't changed all that much. That is until Land Rover decided to completely modernize the platform for 2020.
Not everyone is impressed either. The new Defender looks soft and futuristic, which completely goes against the original target demographic – people who are fans of the original hard-nosed vehicle that could take on any terrain. When you see a Land Rover Defender that's older than 2016, you'll undoubtedly find that it's dirty, beat-up and miraculously still ticking.
This new Land Rover Defender doesn't look like it can stand up to the rigors of a spirited hill climb let alone the daily grind of farmers, builders and bushmen. Yet, looks can be deceiving. That's why it's important to take a closer look at the specs.
But first, a word from Gerry McGovern, Chief Design Officer at Land Rover. "The new Defender is respectful of its past but is not harnessed by it," he said. "This is a new Defender for a New Age."
Exterior Style Points of the 2020 Land Rover Defender
Have you seen the new Honda Element, I mean the Range Rover, I mean the Discovery, no, I mean the Land Rover Defender?
That's a low blow for sure but the resemblance is striking. All have an upright, boxy stance. All have been smoothed around the edges. All look like they're lacking in brutishness. The fact is, the Defender lacks originality when compared to other modern SUVs.
The new 2020 Land Rover Defender has a polarizing exterior. Some will find it innovative and contemporary and some will think that it betrays the original Defender's metal-on-frame claim to fame. It was certainly a choice by the designers of the Defender.
The new Defender will have a 2-door and a 4-door model. The 90 is the 2-door and the 100 is the 4-door. The Defender has the style of the old Defenders, but the materials are lighter. It has short overhangs and high ground clearance, but the underbelly is softer.
It's obvious from their (designers) statements that the 2020 Defender's look was meant to exude a new creative philosophy. Massimo Frascella, the Creative Director of Land Rover Design had this to say in a company press release. "The design of the new Defender is a manifestation of our modernist design philosophy, elemental yet incredibly sophisticated."
Yet, it's debatable whether this new design strategy hit the mark. Just look at the new 2020 Mercedes-Benz G-Wagon. It didn't get dumbed down for its much-needed refresh. It's certainly sophisticated and packed with new technology, but it's also still a huge, metal monster. So, why did Land Rover pluck out all the Defender's teeth?
Related: What's New With The 2020 Acura RDX?
Interior Comfort and Layout
If you can get past the tame look of the 2020 Defender's exterior, then you'll be handsomely rewarded by the interior. The vintage tan and black leather combination are sumptuous and upscale. It inspires thoughts of Saharan adventures, even if you're just planning a trip to the beach.
The interior is highly adaptable, with four different configurations. You can turn it into a 2-seater and open up the whole rear of the vehicle for storage and utility. You can make it a 3 row family mover capable of seating 8 people. You can put a third seat in the front row or a refrigerator in the second row.
Protecting your beautiful interior won't come cheap though. If you want thick rubber mats and a rubberized cargo floor, then you'll need to choose that option. It has a price tag of $700. Practicality reigns supreme inside the Defender. The consoles are modular. The dashboard sits high and sprawls across the width of the interior front row.
"Within, we strived to harness the Defender model's profound spirit of boundless adventure," said Alan Sheppard, Director, Interior Design, Land Rover. "A comfortable interior which is at once impeccably handsome for the discerning, shrewd in functionality and prudently qualified in anticipation of any adversity."
Safety Features
Part of the reason why the 2020 Land Rover Defender looks the way it does is because it needed some safety upgrades. The new frame and design can house advanced safety features that weren't available on previous models of the Defender.
It can now be equipped with emergency braking, lane keep assist, traffic sign recognition, cruise control and speed limiter functions, driver condition monitor and front and rear parking aids. Old Defenders weren't capable of housing these advanced safety features and you needed to simply drive well to be safe. Now, you can count on a comprehensive suite of technological features that enhance vehicle safety.
Additionally, the lightweight aluminum monocoque frame is stiffer than previous models. The entire vehicle is better balanced than its predecessors and it can withstand more punishment, at least on paper.
If you want a Land Rover Defender that can take a beating without beating up your wallet, then you'd be better off buying an older model. This new Defender will have costly new parts that will cost you an arm and a leg to fix. Sure, the new Defender is sturdier, but even the slightest bang-up will lead to a pricey repair.
Performance Capabilities
Does the new 2020 Land Rover Defender look like it can do this?
Or was it designed for a whole lot of this.
The 2020 Land Rover Defender might be capable of off-road greatness, but it sure doesn't look like it. The technology is there. It's just not obvious. Many other automakers like Lamborghini and Nissan are adopting the philosophy that the design is the technology. It seems that Land Rover has followed suit.
There are two engine options for the Defender. There's a 2.0 Liter turbo-charged inline four and a 400-horsepower mild hybrid inline 6. An 8 speed automatic gearbox is the only available drivetrain. It has a permanent all-wheel drive and a new terrain response system. If these engine configurations look underwhelming, then you don't have to eyes checked. Land Rover just announced a new twin turbo 4.4 Liter V8 is in the works.
Underneath the 2020 Land Rover Defender you won't find any heavy metal underpinnings. There's no aluminum skid plates either. If you put this thing on a rack, you'd probably confuse it with a sedan or crossover SUV that wasn't designed for off-roading. The small bolts that hold the fibrous under-casing in place don't seem likely to withstand a rocky impact or anything other than highway pavement.
Perhaps in an attempt to counter this seemingly flimsy underbelly, the drivetrain and exhaust pipe are located very high inside the unibody frame. You can have a front undershield for an additional charge, but it might not be necessary for casual drivers. The new Defender has an electronic air suspension that can adjust the ride height for better wheel articulation.
The suspension is an integral link independent system. It's the same one from the Land Rover Discovery. So, new Defenders might have a more rigid body, but old Land Rover Defenders might prove nimbler.
If you want your new Defender to have towing capabilities, then that will cost you about $900 extra. Only a towing package will equip the Defender with a tow hitch receiver and advanced towing assist. It has a maximum payload of 1,984-lbs and a maximum towing capacity of 8,201-lbs.
Special Note on Accessories
There are four accessory packs that can be outfitted to the Defender. These packs can drastically change the utility of the 2020 Defender. That makes it difficult to casually judge one on looks alone. There's the Explorer, Country, Adventure, and Urban packs. These accessory bundles change the whole purpose of the vehicle.
You might see a Land Rover Defender with the Explorer Pack and think it's amazing because it has roof rails, raised air intakes, and mud flaps. Then, you see a new Defender with the Urban Pack and turn up your nose at its bright paneling and lack of off-road trappings.
Unfortunately, you can't really pick and choose a la carte features from the different accessory packs. If you want to bundle all the best features of the 2020 Land Rover Defender, then you'll face a steep increase in the price.
Base models are advertised with an MSRP of $49,900. Yet, when all the most desired features and models are chosen, you're looking at about $110,000. That's two different categories of vehicle. Yet, at the highest level, the 2020 Land Rover Defender can be quite formidable.
Final Verdict
The 2020 Land Rover Defender is a controversial new vehicle. It's like one of those actors who played such a great role in their debut performance that they can't play any other roles ever. Such is the plight of the new Defender. It will forever be eclipsed by the shadow of its predecessor.
The 2020 Defender is a sound vehicle though. It's functional and versatile. It's got real off-road chops and a luxurious interior. The chassis and safety features have been updated so that the Defender can stay relevant and viable going forward.
However, the best features of the Defender are doled out piecemeal. There is no great Defender model. Everything you want, everything they've advertised comes with an additional charge. By the time you add on all the right features, you've more than doubled the initial MSRP. For example, Sirius XM Satellite radio and a WIFI enabled data plan are available, but they don't come standard on any model of the new Defender.
It's a Defender for goodness sake. It should come with mud flaps and roof rails. It should already have rubberized floor mats and a towing package. Yet, it doesn't and that's part of the problem. If you're not careful, then you could get a legendary Land Rover Defender that's only made for driving you to work and back. What a waste.
Yet, it's remarkable when all the elements come together. Much of the criticism is based on looks alone. Nick Rogers, Executive Director, Product Engineering, Jaguar Land Rover said that "The new Defender gives us the license to do things differently, to push the boundaries and do the unthinkable, without ever losing the character and authenticity of the original."
Rogers goes on to say that "From the start we had an absolute obsession with functionality beneath the skin, from choosing the right materials through to state-of-the-art connectivity. The result is not only the most capable Land Rover ever made, but also a truly comfortable, modern vehicle that people will love to drive."
Keep your fingers crossed, buddy.