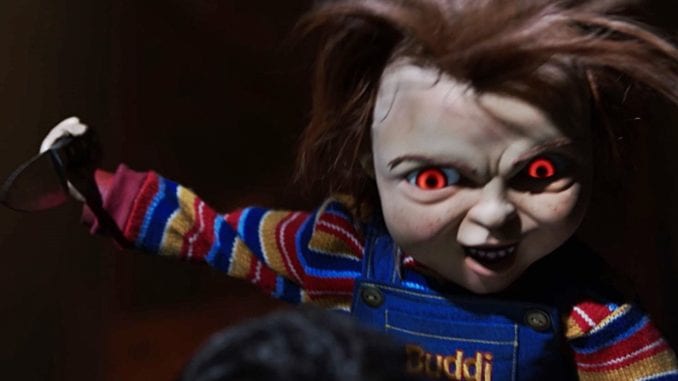 Review of Child's Play 2019
In the spirit of Halloween, I recently decided to fire up my pad and stream the movie Child's Play 2019 to my television set using my Chrome stick. Being a sucker for all things Chucky, I couldn't help but watch this flick, given the entire Chucky franchise history.
Long story short, this movie is a reimagined, contemporary version of the classic 1988 horror classic, "Child's Play". Keep in mind that I only rented it for $4.99 on Google Play, so in terms of cost, I can't say it broke the piggy bank.
At any rate –
This film was directed by Lars Klevberg and stars Aubrey Plaza as Karen Barclay, Mark Hamill as the voice of Chucky and Gabriel Bateman in the role of Andy. The movie was written by Tyler Burton Smith.
What follows is a quick rundown of what I liked about this film as well as some of the things I did not. For the sake of creating a mental picture, I'm going to embed the trailer below as a way of providing context.
To get your head around this movie, you have to flashforward to present day and equip the Chucky doll (named Buddi) with all the bells and whistles one might expect.
Specifically, I'm talking about AI, onboard video cameras and sound capturing capabilities. Buddi is primarily controlled by an app that can be programmed and monitored with a smartphone.
Karen Barclay (Andy's mom) works at a discount store and is able to get a defective Buddi doll for her son Andy on the cheap because the toy's eyes turn red; something that isn't supposed to happen.
The "red eyes" are important to know because whenever Buddi goes into killer mode, he transforms into a cold-blooded killer.
Long story short, Buddi's onboard AI system identifies Andy as his owner and then begins to study his environment. Over time, he becomes fiercely protective Andy and begins to eliminate anyone he sees as a threat.
It's best to think of this movie as a Pixar Toy Story gone wrong with a dose of "It" thrown into the mix. Notice I am not giving too much detail here because I don't want to give away the candy store. I know that I went I read reviews, I hate it when folks overshare and spoil the experience.
So, here are my impressions.
What I liked:
The reimagined Chucky using modern technologies was kind of cool.
Some of the "kill" scenes were more funny than scary.
The emphasis on the characters as opposed to the doll itself.
A fresh perspective on a classic film that does a good job departing from the 1988 original.
Somewhat likeable characters.
Good cinematography
What I didn't like:
The Buddi doll was just weird looking and not very cute.
Incomplete storylines involving some characters that ended up getting gratuitously killed.
Inconsistencies with Andy's character in relationship to his family situation.
Confusion around why some characters were killed when they weren't a direct threat to Andy.
Final Analysis
All in all, I have to say that I liked this movie. I'm not saying it is a great flick or that it ranks up there with more notable films in the horror genre. Instead, I'm simply suggesting it wasn't horrible.
If you are looking for something that holds your attention, offers a mix of "scary" and "funny", this movie could be a good choice.
You can stream Child's Play on Google Play or YouTube for a fee of $4.99. Have you seen this film? What were your impressions?